Many homeowners mistakenly believe that their kitchen is not large enough for an island. The truth is that even small kitchens may benefit from a small center island for food preparation or storage.
Creative Colors
Adding an island or changing out some elements of an existing island may create an amazing accent piece in the center of the kitchen. A different color cupboard or countertop material can work wonders.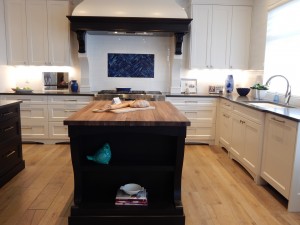 Creative Storage
An open concept island provides a creative solution for storage. Placing decorative baskets or storage boxes on open shelves adds an element of warmth. Stacking colorful pots and pans or hanging them overhead allows for a storage solution that draws the eye to a splash of color.
Creative Usage
An island may provide added color and storage, but it can also provide additional seating. An elevated shelf or overhang allows for an intimate seating area for 1-4 people. Not only is this space great for food preparation or serving, but also for memory making and family time around the table.
Contact Williams Fabrication today to find out more about the creative elements that a customs kitchen island can bring to a kitchen of any size.